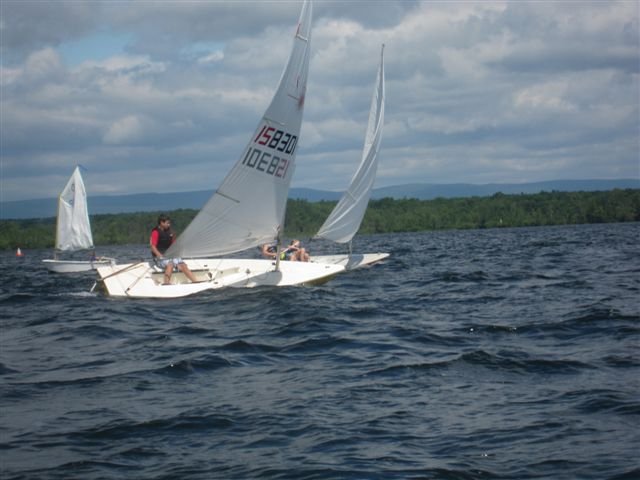 continued — "We always row on the right side of the river to fishermen and to us … the weight of the shell plus the people in the boat is around 2,000pounds, and there are no brakes on it. We can't stop on a dime," said Catalano.
He added there can be some tension on the lake when the group puts out its racecourse every season. To thank fishermen for their patience during the association's events, the association hosts a fishing tournament every year in late August.
"The purpose is to say 'thank you' for their understanding," he said.
The tournament is intended for fishermen in the community and includes cash prizes. Catalano coordinates the tournament with Tim Blodgett, owner of Saratoga Tackle.
Not every problem is caused by powerboats. In October of 2010, a rowing vessel from Skidmore College was peppered with a duck hunter's errant birdshot.
A Saratoga County Sheriff's Office incident report reads in part, "Comp (complainant) states they were rowing and a hunter shot in the direction of the comp – the boat was struck with birdshot – comp states words were exchanged with the hunter –he was on the Fitch Road side of the creek."
State Police and DEC authorities responded to the incident.
Tragedy strikes quickly
An October 2000 tragedy demonstrates exactly what can happen when things go wrong on the water. On a bright, sunny morning with light reflecting off the water, a Saratoga County Sheriff's patrol boat collided with a boat of rowers.
Tim Blodgett, owner of Saratoga Tackle since 2001 and an active user of the lake, was on the water that day but did not witness the accident. He does recall though that the sun was very bright that morning, so much so that he altered his original course.
"The sheriff's boat was on the way to the lake and did not see the (rowing) boat which had been turning and was crossway in the stream (Fish Creek)," said Blodgett.
Vote on this Story by clicking on the Icon