CAPITAL DISTRICT — She was lying dead still on the grass. The wind, especially gusty on the afternoon of Friday, April 20, teased hair loose from her ponytail and sunlight streamed through the tree above her, shining a natural spotlight on her blood spattered white t-shirt and denim shorts.
The silence was shattered by wailing police sirens and a blonde young girl's piercing scream as she stumbled from a wrecked red car and dropped to her knees beside her motionless friend.
It seemed like a scene from a bad horror movie or action flick but it was actually a recreation of a very real scenario that drunk driving can create. Organized by
the Albany Police Department, Albany County Sheriff's Office, Albany County Paramedics, Albany County Coroner and the Albany Fire Department, it was staged at The Albany Academies as part of the Albany County STOP-DWI Program to coincide with upcoming prom and graduation festivities.
"It gives them a visual effect, brings their classmates as potential victims and they see the consequences a little better," said Lt. Kerry B. Thompson, STOP-DWI program administrator. "(They) see everything develop in its entirety."
The elaborate recreation played out in front of groups of high school students craning to see behind bright yellow crime scene tape. To make it as realistic as possible, nothing was spared.
There were two cars with their fronts smashed in and student occupants smeared in blood and moaning in "pain." Two Albany police cars screeched to a stop, followed by ambulances, a fire truck and sheriff's deputies. Paramedics worked the scene as a driver, presumably "intoxicated," performed field sobriety tests and was eventually cuffed and ushered into the back of a police car. A Med-Flight helicopter landed in a field across the way.
Photo Gallery
Mock DWI demo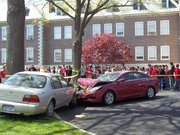 Students at The Albany Academies viewed a demonstration about drunk driving on Friday, April 20.
At the end, the girl in denim shorts who lay still on the ground was covered in a white sheet, zipped into a maroon body bag and loaded into the trunk of the county coroner's black SUV.
(Continued on Next Page)
Prev Next
Vote on this Story by clicking on the Icon