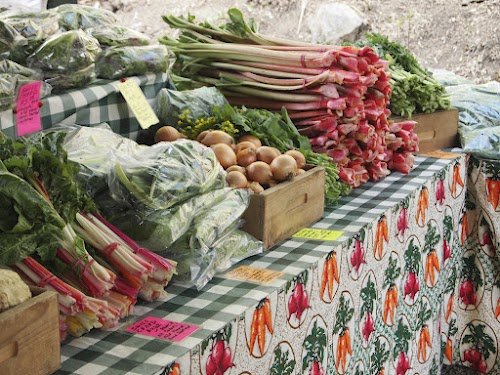 continued — Market Coordinator Suzanne Voigt said, "We have an amazing number of regular customers, and a group of about 15 of them formed Friends of the Saratoga Farmers Market last year. They're a wonderful group who are doing great things for our market. One of the things they've started is a Veggie Valet."
The Veggie Valet provides customers with wagons and a marked area to place their purchases as they shop the market. This service comes in handy, especially this time of year when folks are buying a lot of plants and can't carry or cart everything at once – a common dilemma at markets.
Farmer Chrissey Eberhardt of Joy of the Journey Farm in Greenfield Center makes soaps and lotions made with goat milk from a herd she raises. She's been a vendor at the Saratoga market for more than five years.
"The market has grown immensely in the last few years. … Farmers markets are great because customers can talk with a farmer directly about what they're growing and making," said Eberhardt.
The Saratoga Market, like many others, also serves as a CSA pickup location. CSAs, or Community Supported Agriculture, offer shares to consumers of a farmer's goods that include a variety of seasonal products. Shares are options that let you choose how much you'd like to spend per week or month, and gives you freedom to select what products you'd like to purchase. It's a prepaid ticket to seasonal shopping.
Michael Kilpatrick of Kilpatrick Family Farm in Granville has been selling at the market for more than seven years and offers CSA shares from his farm.
He said that the opportunity to get food from farmers is great for consumers and is "completely changing the food system, creating transparency and clarity in the food system."
Many farmers welcome the growing opportunities offered by CSAs and Farmers Markets to let consumers know about what they're producing. Many, like Kilpatrick, even encourage visitors to his farm.
Vote on this Story by clicking on the Icon