ROTTERDAM — Rotterdam storeowners are hoping their elected officials make some tweaks before putting in place a proposed law governing their businesses.
The Rotterdam Town Board on Wednesday, April 11, held a public hearing on the proposed local law that would regulate the acceptance and sale of secondhand items, with a focus on gold and other precious metals. The new law would require dealers to purchase a license from the town, hold purchased items for 10 days and send a detailed daily report to police on what items were acquired.
The Rotterdam Police Department is pushing for swift approval of the law due to an uptick in theft and burglaries, with officials saying it could help make arrests and lead to the recovery of property.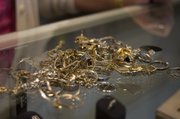 Town officials estimate the law would affect up to 12 businesses in the town.
Matthew Powell, manager of Jewels Fine Jewelry, is one retailer against the law.
"It will do nothing more than create problems for the local businesses that deal with the purchases of precious metals," Powell said. "The main issue here is that the people of Rotterdam should have the right to sell their gold and precious metals at the full market price value at the time of their choosing."
Powell said the 10-day waiting period forces the customer and buyer to "hedge the price" offered because the value of gold is subject to market fluctuations. He said price competition between stores is an element of the business and commissions at his store are usually 10 percent or less.
"How do you pay customers for today's price when you can't sell it for another 10 days?" he asked. "It would in effect turn gold buyers into gamblers."
Councilman Robert Godlewski said he understands concerns over the waiting period but questioned how much it would impact businesses. He believes it would only affect profits by a minor amount.
(Continued on Next Page)
Prev Next
Vote on this Story by clicking on the Icon