NISKAYUNA — For students, learning about wars often means reading dull black-on-white text in a history book.
But for eighth-graders at Iroquois Middle School in Niskayuna, Thursday, April 19, added some color to history lessons, as they heard firsthand accounts of the past century's greatest conflict.
Four local World War II veterans visited the school for a panel talk to share personal stories and answer questions.
Dennis Frank, an eighth grade social studies teacher at Iroquois, organizes the annual event to coincide with students finishing their unit on WWII. Typically the students are tested following the event.
"I find it to be the most memorable day of the year and I think the students will feel the same way when it is over," Frank said. "They really have a very good appreciation and understanding of what these gentlemen have gone through."
Three of the veterans had talked to students during previous years at the event, but George Williams, an 86-year-old Niskayuna resident, was talking for the first time. Williams even donned his old uniform for the occasion.
"(Dennis Frank) asked me if I would come and share my thoughts and I said, 'Yeah, sure," Williams said.
The men gathered in the library at the school before the event, slowly pacing down the school's hallways. It didn't take long for them after greeting each other to start talking about the war again.
The veterans remembered that they and their peers weren't too much older than the students they were talking to when they joined the war effort.
William Rochelle Jr., an 87-year-old Glenville resident, said he enlisted in November 1942 when he was a freshman in college, along with several other classmates.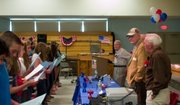 "The fate of the world, by in large, was put in the hands of people not a whole lot older than you folks and what we did was remarkable," Rochelle said.
(Continued on Next Page)
Prev Next
Vote on this Story by clicking on the Icon