continued — He said the expression of "the flak was so thick you could walk on it" was literally true in this situation. His company lost half of his group coming out the other side.
"It got worse when we got back and we had many wounded people and I had to help take a friend out that was decapitated," he said. "That was gruesome, but it was disheartening to say the least. At that mission we had over 200 holes in our airplane when we got back and … not a man hit. That was the happy part of the trip."
Touring the remains
Williams had volunteered for the Air Force, but found himself joining an infantry unit landing on the shores of France before walking down crumbled streets and liberating a concentration camp.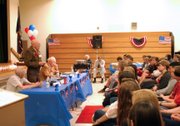 In 1943, Williams enlisted in the Army and went into active duty around one month later in January 1944. He became a military policeman for the Air Force, but around the beginning of the Battle of the Bulge he went into infantry training.
Around March 1945, he traveled to Europe, but the Battle of the Bulge had already ended in late January. Upon arrival, he traveled in a train boxcar to Schweinberg, Germany.
"I was a replacement … they had lost about half of their members," Williams said.
His second day at Schweinberg, he walked through "rubble that was all over the streets piled as high as you are," he said to the students. This was also the day President Franklin D. Roosevelt died, he said.
After the war he served as a driver for the chaplain of Munich, Germany, where he saw results of the Nazi concentration camps. He was assigned to this position because, unlike most infantrymen, he had a driver's license, he said.
Vote on this Story by clicking on the Icon