continued — He drove the chaplain to the Dachau concentration camp, the first Nazi concentration camp opened in Germany. He said he wasn't allowed to talk to the prisoners.
"I did go in the gas chamber and then we went into the crematorium and the bones were still there and they went from that corner up to the ceiling," he said.
The great bombing debate
Gibbons said at the end of WWII he signed up with 1st American Volunteer Group of the Chinese Air Force, nicknamed the Flying Tigers. He said he got stuck in Okinawa, Japan, because the nationalists were losing the war and the communists were taking over.
This led him to supervising the prisoners of war held at Okinawa, a task he wasn't thrilled about.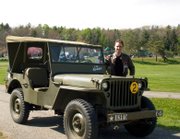 "It was a job nobody else wanted and somehow I got stuck (with it)," Gibbons said.
The one message Gibbons said he wanted to convey was the dropping of atomic bombs on the cities of Hiroshima and Nagasaki in Japan was the right solution to end the war.
Gibbons said he talked to a group of "distinguished Japanese officers" that were working for him and asked them what their thoughts were on the bombing. He said they thought the atomic bombings on Japan were the "best thing" that ever happened for either country.
"They said if it had not been bombed, the fighting that was about to take place would have taken place. They were aware of what they had on the other side," he said. "Even though it was their homeland that got hit, they said that really the number of people that were killed in that particular bombing that it was well worth it as far as they were concerned."
The casualties that would have been realized from a military confrontation were thought to be much larger than what was sustained from dropping the bombs, Gibbons said.
Vote on this Story by clicking on the Icon