BETHLEHEM — Myles McAdoo was known for his kind demeanor and gentle smile. He is described as a happy kid who was made others laugh.
"More kids have told me Myles was the only one who liked them, or he talked to them through being picking on," said his mother, Laurel McAdoo. "He loved everybody."
In 2005, at the age of three, Myles was being treated for brain cancer. He went through a 10-hour surgery to remove a tumor, underwent eight weeks of radiation treatment and then a year of chemotherapy.
Through all that pain he grew into a joyful, fun-loving child. McAdoo was told her son would have some developmental issues and his pituitary gland would be stunted, but besides that he would live a normal, full life.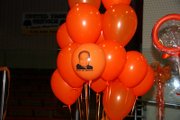 Then in January, at Myles' five-year checkup, Laurel would receive devastating news. Myles was diagnosed with a cancerous tumor on his brain stem.
"We believe the radiation from his previous treatment may have given him the cancer on his brain stem," said Laurel. "The stem is the body's computer. Once it goes there, it's always fatal."
It was at that point Laurel made a difficult decision. She would not tell 9-year-old Myles or his twin brother Marcel about the diagnosis. She began to focus on making sure the last months of Myles' life were the best they could be.
"People were pressing me to tell him and it just didn't feel right," said McAdoo. "If he had asked I would have told him, but he didn't. I wanted him to live like he would every other day of this life. He knew he was sick and was getting sicker. He didn't say anything up until his last breath. I carried that because I didn't want my children to."
Laurel's friend Sherri Townsend put together a fund drive to raise money so the family could do as many fun things possible. About $30,000 was raised and sent the family on a cruise, to Disney World, Universal Studios, and Sea World.
(Continued on Next Page)
Prev Next
Vote on this Story by clicking on the Icon