ROTTERDAM JUNCTION — To the beat of a drum, people gathered around a fire to celebrate their culture and strengthen friendships.
The Keepers of the Circle hosted its sixth annual traditional Native American pow wow, "Keep the Fires Burning," on Saturday, July 21, and Sunday, July 22, at its Rotterdam Junction site adjacent to the Mabee Farm Historic Site. Native American music provided the focal point for the event, with dancers periodically stepping into the circle to perform traditional routines. There were other attractions, too, such as craft tents, food, genealogy and history tents and archery. The group's museum is also onsite, which has a gift shop.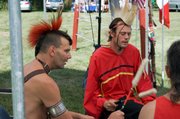 The organization started 20 years ago in Albany, but Director Jessica LaPan said it's called Rotterdam Junction home for seven years. The group has around 63 members, she said, with about 40 of those are very active.
"It is to keep the Native American culture alive," LaPan said. "There is a lot of different Native American cultures."
Dennis VanPutten, or "Timber Wolf Ghost Spirit," traveled from Long Island to attend the event.
VanPutten, 66, said his Dutch grandfather married his Native American grandmother, which started his roots in the culture.
"I became aware of the circle as a little boy, because my grandmother … would go back," he said. "She would go back to the reservation for about a month every summer and my grandfather said, 'It is your grandmother's escape.'"
At the tail end of her trip, VanPutten's grandmother would let him come to the reservation before the pow wow. In 1953, he experienced his first formal introduction into the circle and pow wow.
"The experience of being at pow wow itself is our religious experience," he said. "It is what we call 'sharing the medicine' and anything that is good is medicine."
He said he was born into the culture, but somehow it was never a strong part of his family's life. In recent years, he has embraced his heritage more and became active in the Native American community. Now, he said he recognizes his purpose and calling, which is a gift to share and empower people.
(Continued on Next Page)
Prev Next
Vote on this Story by clicking on the Icon