continued — "Somehow I have been given a tool that I use to empower and it is very similar to being a rabbi, or a minister," he said. "If someone asked me, 'What are you?' I'd say, 'You can call me a spirit worker.' Sharing the medicine is sharing the knowledge in a good way that is productive.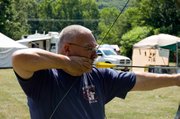 Don Howard, of Gloversville, said although he doesn't have any Native American ties he is very interested in the culture. Holding a traditional wooden bow in hand, Howard said archery is what first drew him to Native American culture and history.
"It was the actual bow hunting that intrigued me to get me into shooting archery," he said.
Howard works for Amsterdam-based BowHunters Plus and said he started off with a wooden bow and arrows before transitioning to the compound bow. He said with older bows you can watch the arrow as it pierces through the air.
"You are in tune with what your body is allowing you to do," he said. "It is very similar to pitching a baseball, with the hand and eye coordination."
Over the years, he said he has gone to several pow wow events and enjoys immersing himself in the culture. He said he admires the Native American lifestyle and hunting skills used to stealthily and effectively capture pray.
His affection for the culture though stretches back to his childhood.
"I always had a soft spot for the Indians," he said. "Watching them as a kid, with the Indians and the cowboys, I always wanted the Indians to win."
Vote on this Story by clicking on the Icon