46TH SENATE DISTRICT — George Amedore's campaign for the newly drawn 46th Senate District has raised more than three times as much as his three Democratic opponents — combined.
In a mid July required financial disclosure, Amedore posted a balance of nearly $321,000. He spent about $57,500. The three Democrats vying for the newly created seat posted a combined balance of nearly $87,000.
Amedore said many people are "enthusiastic" and "excited" about his campaign and he's received a lot of support.
"We have a lot of people that are sick and tired of the same old thing," the assemblyman said. "The economy is not any better and government is not the answer to create the jobs."
Some lawmakers have argued the new senate district was drawn expressly for Amedore's bid, and it holds nearly all of his current 105th Assembly District.
Amedore's assembly district consists of all of Montgomery County and areas of Schenectady County, including the towns of Rotterdam, Princetown and Duanesburg and a majority of the City of Schenectady. He has represented the district since 2007.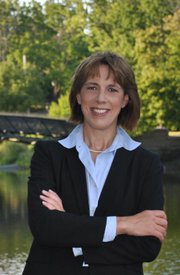 The new 46th Senate District includes all of those areas except it only holds a small portion of Schenectady. Moving south from Schenectady County, the district includes more rural areas of Albany County, all of Greene County and northeastern areas in Ulster County. The new district is home to about 290,000 people.
Cecilia Tkaczyk, Duanesburg Board of Education vice president and former state senate staffer, posted a closing balance of almost $70,000, putting her far ahead of her Democratic challengers in terms of fundraising.
"I have talked to a lot of people and really worked hard to raise awareness and raise money," Tkaczyk said. "I'm running for senate because we need someone who is going to fight for Upstate New York's fair share."
Tkaczyk secured the Working Families Party ballot line, but faces The Hispanic Coalition NY Founder and President Mónica Arias Miranda and Coeymans Town Board Councilman Thomas Dolan in a Democratic primary.
(Continued on Next Page)
Prev Next
Vote on this Story by clicking on the Icon