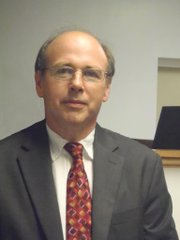 continued — The Bethlehem Democratic Committee donated $150 to Dolan, and the Guilderland Democratic Committee gave $125 and Cohoes Democratic Committee gave $75.
All of Dolan's donations totaled $4,755, though he is the only Democrat challenger to not take out a loan. Dolan said he held only one fundraiser, but has some more lined up.
"I have been focusing on my message and not raising money," Dolan said.
Lately he's also focused on securing 3,000 signatures to place his No Hydrofracking independent party on the ballot, which he said is an important issue to many residents in the new Senate district. If he's successful, he would be on the November ballot no matter the result of the September Democratic primary.
"If someone is going to run against the Republican candidate, you would at least need two lines to compete with them," Dolan said.
Amedore said residents have supported his campaign because they don't want to see the State Legislature turn blue.
"They don't want to see all of Albany go back to a one party vote," Amedore said. "It was a disaster and nothing got done."
Vote on this Story by clicking on the Icon