SCHENECTADY — Schenectady County Community College President Quintin Bullock isn't going anywhere for the next three years.
The SCCC Board of Trustees on Monday, July 30, approved a new three-year contract with Bullock to begin Sept. 1 and conclude Aug. 31, 2015, with an option for a one-year renewal. Bullock will receive an annual raise of 1.5 percent under the contract on a starting salary of $161,258. Bullock has been SCCC president since July 2009.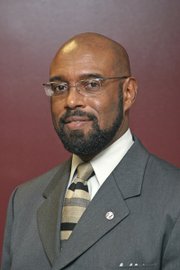 Bullock had been a finalist for a position heading up two other community colleges earlier this year, but was not selected for either job.
Board Chairwoman Denise Murphy McGraw credited Bullock with helping to attract a more diverse student body, developing new programs and strengthening relationships with four-year institutions.
"I am truly honored and gratified by the support of our Board of Trustees, faculty, staff and community partners and I look forward to joining you as you continue to move Schenectady County Community College to its next level of success," Bullock said. "It is no surprise that community colleges are currently in challenging times, but SCCC has been responding very positively to meet new demands."
Bullock pointed to steady increases in enrollment. Over his three years, the number of full-time equivalency students has increased 11.5 percent and the total number of students has increased by 27.6 percent.
Restoration work was recently completed on the front portico of the Elston Hall façade and construction of the new School of Music building is well underway. The college is also launching its first student housing project for the upcoming semester, which is to offer 264 beds.
Bullock said the student housing is progressing on time and the rooms will be furnished soon. To date, he said there are 105 finalized housing agreements and around 110 in the pipeline.
McGraw said Bullock underwent a "lengthy and innovative" review, which had faculty, staff, trustees, students and community partners conducting more than 20 hours of interviews.
(Continued on Next Page)
Prev Next
Vote on this Story by clicking on the Icon