SCHENECTADY — Children eagerly ran through a hand-drawn ceremonial ribbon and into a bright, welcoming new space to call their own.
The Schenectady County Public Library on Monday, July 30, opened its new 6,700-square-foot Children's Wing at the Central Library Branch in downtown Schenectady. The Schenectady County Legislature contributed $1.5 million in county funds for the expansion, with private grants and donations from the Library Board of Trustees matching the county's contribution.
The legislature also committed $2 million in county funds for upgrades to the building's heating and cooling, electrical, fire safety and ventilation systems and for asbestos abatement. All of those upgrades are completed, too.
"This has been a great example of a public-private partnership that works," said Gary Hughes, chairman of the legislature's Education and Libraries Committee. "It is exciting to have this new Children's Wing, so that our children and families can enjoy their time together while learning."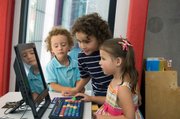 Library officials started making plans for the expansion about 10 years ago, but over the last four years the project moved forward steadily, with construction starting about 14 months ago.
Library Board of Trustees Chairwoman Esther Swanker said "all kinds of ideas" were brought to the table. Swanker said she is "relieved" to have the project completed after working on it for 10 years.
Earl Lesson, a Schenectady resident for 64 years, said the addition was "worth the wait." Lesson, a former library employee, said the expansion modernizes the facility.
"I feel like I'm in the capitol in Albany or Manhattan, not Schenectady," Lesson said standing in the new Swanker Boardroom. "The design is really upscale and beautiful."
The second floor of the facility holds the new boardroom and two study rooms. A spiral staircase in front of the almost completed librarian desk leads visitors to the three rooms with glass walls.
(Continued on Next Page)
Prev Next
Vote on this Story by clicking on the Icon