continued — The main focus of the addition is the new children's space, which allows for more creative programming and an expansion of toddler and summer reading groups.
"They were hampered with the other room that wasn't big enough for all the programs that they wanted to do, so they had to send them to other libraries, but now it is all here," Lesson said.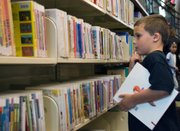 Karen Johnson, vice chairwoman of the legislature's Education and Libraries Committee, said she was "thrilled" at how the children were responding to the room.
"They are quite excited about it and I think that is what we really want," Johnson said. "We want kids to be excited about learning, books, media and computers. If we can help kids get to be good early readers that is a big plus."
The old children's area will be used for additional computer terminals. County spokesman Joe McQueen said there is almost always a wait to use a computer.
"For a lot of people this is a technology resource and I see that we will probably be doing more of that," Johnson said. "The library has to change with the times and I think this library has been very successful. They are doing a lot more with media, a lot more with computers."
McQueen said upgrades and expansions at the library are tackled piece by piece, so there are some more upgrades down the line.
"There still is a little more work to do at the main library branch," he said.
Even as times change, Lesson said the library would continue to be an important part of the community.
"It is a center where people can go, everybody can go, and they can contribute to other people from their experiences," Lesson said. "At least Schenectady is coming into its own with this."
Vote on this Story by clicking on the Icon