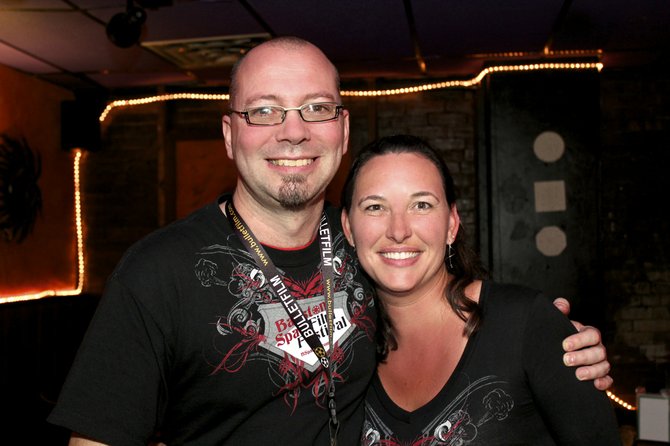 Ballston Spa — In 2007, Daniel DeFabio saw a big gray wall at Wiswall Park in Ballston Spa while listening to a summer concert there. Well, that's not entirely true. He actually saw something more.
"I thought maybe it would be good for movie showings," said DeFabio, who is a visual and graphic artist by trade. "I wanted to have more unique offerings, not just what people could watch at home … and have something for local families."
Thanks to his vision, the Ballston Spa Film Festival is entering its fifth year and going strong. The event, which is set for Friday and Saturday, Aug. 3 and 4, this year, remains free.
A total of 39 films made by both local and international filmmakers, with an emphasis on films made by students, will be shown and juried over the two days. One winner for each category including best picture and best sound will be chosen. Screenings will be in Wiswall Park and at the Ballston Spa High School Auditorium. Screenings will start at 6:45 p.m. both evenings and are all family friendly.
The event has drawn around 1,000 total audience members in past years. This time, DeFabio and Festival Director Pam Grandin hope to draw closer to 1,500.
Funding for the two evenings of cinema came in part from a grant from the Saratoga Gaming and Raceway Foundation in the amount of $1,000 as well as one from Saratoga Program for the Arts in the amount of$4,400.
DeFabio is glad to see his brainchild grow from a from-scratch movement in its first year to a village institution. He also said local officials are considering closing off a couple of streets this year to accommodate the influx of movie fans.
"We'll get as many as 450 people at a screening, it's great," he said. "It creates a festival kind of atmosphere and it's a spectacle even if you didn't plan on going to it."
(Continued on Next Page)
Prev Next
Vote on this Story by clicking on the Icon