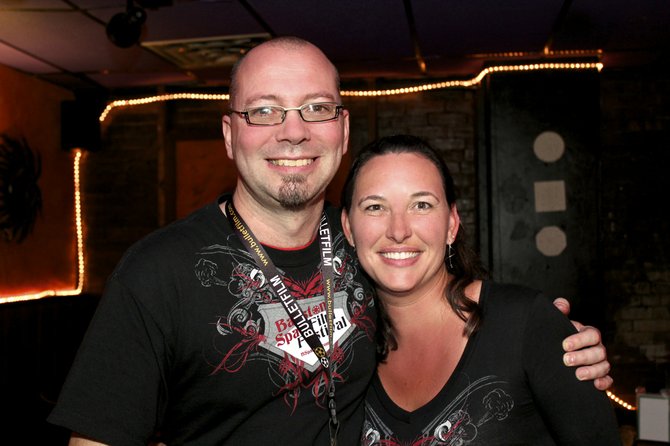 continued — The event also considers Ballston Spa businesses and DeFabio has coordinated with many of them to offer later than usual hours. There will also be an after party at 51 Front Street (which is both the bistro's name and address) on Saturday night starting at 10:30 p.m.
"It's a very good community event, not only for Ballston Spa … but I think it's a great thing to be doing here locally because we have filmmakers from all over the world who are submitting to us…and nobody wanted to see it go away," Grandin said.
As the festival gains popularity, it's also drawing more international artists. Russian filmmaker Mikhail Kanavz made the trip to last year's festival for his film's screening. This year's festival includes six Russian filmmakers.
Filmmaker Dan Masucci of Scotia entered his film, "Dx ONE" to the festival. It's about diabetes and depicts his family's struggles with it. His son Nicholas was diagnosed with Type 1 diabetes in2008. He said he hopes the film raises awareness of the disease.
"It has been my goal for audiences to better understand the experience of what people with Type 1 and their families endure on a daily basis as well as simply enjoy a good film," said Masucci. "Dx ONE" runs 18 minutes and will be shown on Saturday evening in the park.
Audiences can enjoy the festivities prior to the park showings along with kettle corn, cotton candy, ice cream and fun movie trivia.
There will also be one full-length motion picture shown Saturday afternoon at the high school (check the event website for a forthcoming time).While Grandin declined to disclose the title, she said that it features two animals on an adventure. One of the animals is named Otis, the other Milo. After that film there will also be a panel discussion with a composer about how music is incorporated into film.
The festival is presented by the Ballston Spa Business & Professional Association. For a complete schedule of screenings visit bspafilm.org.
Vote on this Story by clicking on the Icon