SCHENECTADY — Every time one 11-year-old leaves his house, he faces long stares, pointing and laughing, just because he looks different from the crowd.
Broadway Chopper owner Lee Sikes wanted to help bring an end to the snickering and unpleasant attention his son receives on an almost daily basis so he organized the inaugural Little People of America "Ride with Pride" fundraiser. The event, held Sunday, July 29, aimed to raise awareness about dwarfism and support the national nonprofit of the same name.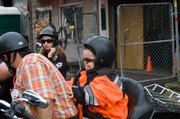 "When we go places, people want to think it is a spectacle," Sikes said. "People want to point and make fun and ask questions … so I thought it would be a good way to let the community understand it is what you are born with; nothing to point fingers at or make light of."
Sikes' wife, Manon, said sometimes all the negative attention becomes too much for Dylan, and he'll opt not to leave the house.
"People are just plainly rude," she said. "They look, they point, they laugh, and we can get away from it by going by ourselves, but he's stuck, he can't get away. That is why it hurts us."
Dylan and his family have faced medical trials and tribulations over the years and have to travel to Delaware in order to see a specialist dealing with dwarfism. When he was born, Dylan's spinal column was too big, and he needed surgery before his first birthday.
Soon, Dylan will undergo another painful surgery, in which both of his legs will be broken. The reason for this is that some of Dylan's leg bones are growing longer than others, which has left him with a bowleg condition that increases strain on his tendons and makes it painful to walk longer distances.
In order to support Dylan and connect with other families, Sikes helped form the local Little People of America chapter, which is scheduled to host the regional convention this year in Saratoga Springs. Sikes said the new Mohawk Valley Chapter has "exploded" since forming.
(Continued on Next Page)
Prev Next
Vote on this Story by clicking on the Icon