continued — "You start meeting other families from this area with kids with it, and we started a support group," he said.
Sikes said he sold his home in Schenectady and moved to Niskayuna so his son could be in the South Colonie Central School District. He said the district offered more resources at the time for his son.
"To properly take care of a son with disabilities, you have to change your whole life," he said. "You have to find out what is best for them."
Sikes said Dylan has an "unbelievable outgoing personality" and doesn't let his condition get in the way of his life.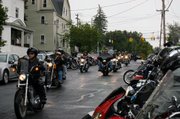 "Anybody that has a disability, God gives them something inside, man. They got strength," Sikes said. "You are better served if you come to know these people instead of point at them and isolate yourself from them."
Sikes had to hold back tears recalling a time he visited the Ronald McDonald House in Delaware, where he met a young girl just happy to see another nice day.
Around 4 a.m. he was sipping some coffee at the House and the little girl, who he could tell had some serious health issues, came down the stairs and said to him, "It is a beautiful day isn't it."
Then, she said, "I live to see another spring."
Sikes said at that point something hit him — "When you are healthy you're lucky."
Dylan came riding into the event on the back of Jeff Weinstein's Harley Davidson. That day though, Weinstein donned his Shriner clown attire and went by the name "Diddle."
Dylan was greeted with high fives and many smiles. The street in front of the shop was already lined with several motorcycles upon his arrival, with any nearby parking hard to find.
"The bike world is a great world when you are an honest person and you live in it," Sikes said. "Bikers are always ready to reach down to help somebody back up and lend a helping hand."
Vote on this Story by clicking on the Icon