continued — Weinstein, 53, traveled from his hometown of Montreal, Canada, to attend the event. He also held the honors of taking Dylan on his first motorcycle ride. Weinstein's bike had a high, padded backrest, forming a "U" shape to securely seat Dylan.
Weinstein said he and the Sikes have common friends, and when the family came to Montreal about a year and a half ago, he met them for the first time.
Dylan asked Weinstein to come down for the event, and he couldn't pass up the invitation.
"It is all about Dylan," he said. "For me it is all about kids. It doesn't matter what the affliction is."
He said it was great to give Dylan his first ride one a motorcycle.
"First time riding, he is looking around. He wants to see everybody, wave to everybody," he said. "Getting him just to stay in one spot is going to be a challenge, but it is a challenge we are looking forward to."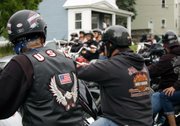 The ride stretched through Schenectady and Saratoga counties and returned locally to LT's Grill in Niskayuna for the second half of the party.
LT's Grill owner L.J. Goldstock said he met Dylan and his family when they came to his restaurant, and he's felt a connection ever since then.
"(Dylan) just brings such happiness," Goldstock said. "He doesn't look at himself as a little person, and when he walks into a room, he has this personality that people are drawn to."
Goldstock was very pleased with the turnout for the early-morning run and said he was pleased to offer his restaurant to Sikes for the event.
Dylan can't change his condition, but Sikes hopes through raising awareness his day-to-day life might be a little easier.
"You can come to this dwarfism awareness run today, you can get around the dwarfs — you can talk to them, you can meet them, you can acknowledge them — then you can go home," Sikes said. "They don't leave that, they have it 24/7. … My son can't walk away from this."
Vote on this Story by clicking on the Icon