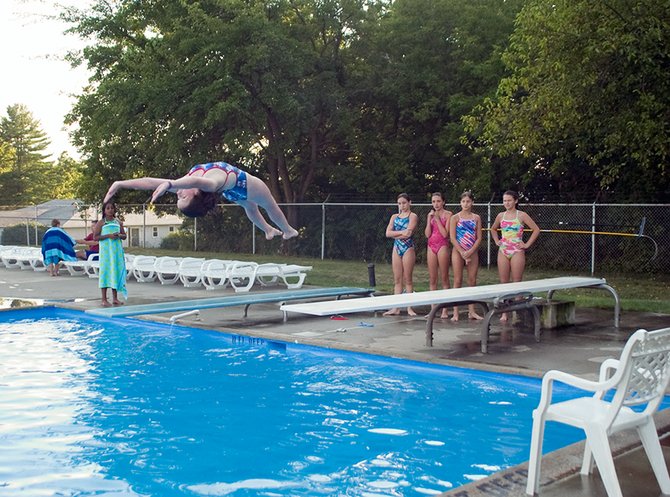 NISKAYUNA — Shortly after the world's best athletes were welcomed to the London 2012 Olympic Games, a group of local swimmers held their own poolside kick-off party.
The Niskayuna Wild Turkeys Swim and Dive Team held its annual Swim and Dive-a-Thon on Friday, July 27, at the Niskayuna Town Pool, with the event's proceeds donated to the Donna M. Crandall Foundation. The event this year also held an Olympics theme because it was one of the many USA Swimming Splash Bashes held throughout the country. Splash Bash events aim to raise excitement in the Olympics while promoting pool exercise.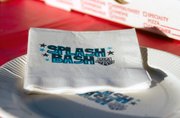 "It's a great opportunity for our kids in the community to raise money for other local families who are in need of help," Dive Coach Pat Smith said. "They get an opportunity to give back and be part of something a little different. … They get to help people and have fun."
The Donna M. Crandall Foundation has received support from the swim team for several years. The Foundation was founded in 2000 to provide financial support to cystic fibrosis patients in the Capital District, such as medical, grocery and gas expenses. It also helps some families take a vacation when funds are low.
Smith said members of the swim team, which consists of local children and teens, get excited when they hear and watch the USA swimming standouts like Ryan Lochte and Michael Phelps.
"All those big-name swimmers they are excited for and love to see how they do in the Olympics," Smith said.
Swimming Coach Mike Held agreed many team members were excited for the Olympics and some of the older swimmers showed a spike in their competitive spirit.
"The swimmers are like their role models," Held said. "With all the young kids this year it gives them something to work towards."
(Continued on Next Page)
Prev Next
Vote on this Story by clicking on the Icon