SCHENECTADY — Student housing and upscale, modern living rarely coincide, but one local college hopes to find success with this unlikely combination.
Schenectady County Community College and The United Group of Companies on Tuesday, Aug. 7, offered the media a tour of nearly completed student housing, College Suites at Washington Square, which is on target for students to move in on Aug. 31. The $13 million project places student housing adjacent to SCCC's main campus on Washington Avenue.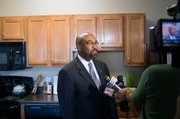 SCCC President Quintin Bullock stood inside a nearly completed suite several years in the making as construction workers continued final preparations outside the door.
"It is very exciting to see this come to fruition and know that it will open on Aug. 31 for students moving in," Bullock said. "The Board of Trustees, faculty and staff are looking forward to watching this new initiative and allowing it to really become a part of the college's fabric."
Bullock said more community colleges are looking to student housing to expand outside of the typical recruitment area. He said SCCC has "very unique programs," such as air traffic control, culinary arts, nanoscale materials technology and alternative energy technology that appeal to students from across the state.
There are students signed up for housing next semester from Oneida County, Warren County and even New York City. Out-of-state interest has also been spurred, with two baseball players coming up from North Carolina.
College officials estimate enrollment will increase 1.5 percent for the 2012-13 school year. Current enrollment stands at 7,340 students.
Bullock said housing offers the complete college experience to SCCC students.
"It really allows students to get that sense of independence, a chance to get a true experience of college life, a chance to really begin to live on their own and explore opportunities," Bullock said.
The 112,000-square-foot facility has 69 rooms with 264 beds, with a mixture of four bedroom, two bathroom and two bedroom, one bathroom suites. Each room includes full-size appliances, such as a refrigerator, microwave and stove.
(Continued on Next Page)
Prev Next
Vote on this Story by clicking on the Icon