continued — Joe Uccellini, social media manager for United Group, said he worked with students to identify what they wanted for rooms and the building. Full-size beds were placed in rooms after the company heard a lot of feedback on the issue, he said, and closet space was identified as a priority.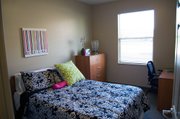 David Lee, sales and leasing manager for College Suites, said he's toured the facility to around 150 people so far, with several tours happening each day. In the last two days, he has received around 40 phone calls and 25 to 30 emails from students looking for housing.
College officials said around half of the rooms are already rented out, with little worry the remaining rooms won't be filled.
"I believe we will be filled by the move in date without a problem," Lee said. People have been blown away. We are not a dorm, we are off campus luxury housing … most dorms don't have half of this."
A fully furnished four-bedroom suite rents for $635 monthly per person, which includes cable, fiber optic Internet and Wi-Fi, central air and heating and utilities. The all-inclusive cost goes up $30 per month for a two-bedroom suite.
SCCC Board of Trustees Chairwoman Denise Murphy McGraw said the college surveyed students to reach the design and price point. Michael Kliman, property manager for United Group, said it was "very important" to offer an affordable price for students.
Outside of the rooms there are several amenities that compliment programs offered at the college. There is a flight simulator offered for aviation students to practice outside of the classroom. Music students will also be able to hone their skills in a music rehearsal room. The student lounge also holds a demonstration and community kitchen, allowing for culinary students to practice and share their craft.
Vote on this Story by clicking on the Icon