TROY — For one week, 22 Schenectady Middle School girls took a break from summer vacation to learn alongside industry leaders in energy technology.
The summer camp "GE Girls @ Rensselaer" was held from Monday, July 30, to Thursday, Aug. 2, and aimed to spur interest in girls in science, technology, engineering and math (STEM) and initiate mentoring relationships with women in STEM careers. The General Electric Women's Network partnered with the Rensselaer Polytechnic Institute to offer the program.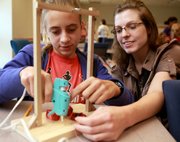 "We see that young girls are interested in STEM, but when it comes time to make a career choice, STEM fields are not high on their priority list," Joanne Kugler, chief information officer of GE Power and Water, said in a statement. "Many girls express that they don't know a lot about STEM careers and opportunities. Through programs like this we can help change that. We can expose girls, at a young age, to leaders in these fields in hopes of making a lasting impression."
Students were bused daily to RPI to work alongside college faculty and GE female employees on a variety of projects. Daily lessons focused on energy, construction, programming, electronics, and chemistry. Participants designed a wind tower, built a flashlight, and learned the chemistry behind lip-gloss and making ice cream. The girls also took part in a motorized LEGO car rally.
Students and their parents gathered at GE's Schenectady Campus on Thursday, Aug. 2, with Schenectady school district and Rensselaer officials to celebrate what they learned and showcase their projects.
"Not only does this inspirational, hands-on program keep students learning, engaged and thinking like a scientist during the summer months, but in many cases leads them to develop greater interest in science and technology," Schenectady Superintendent Larry Spring said in a statement. "A program like this might even change the course of a student's life; allowing them to see opportunities … they might not have otherwise realized."
Schenectady teachers and principals nominated girls for the program. GE worked with RPI to develop the curriculum and exercises based on a model established last year at Massachusetts Institute of Technology. The local program was tailored to technologies prevalent in the Capital District.
GE awarded a $25,000 grant to fund the local program. The program was also held again at MIT, along with a first run at the Milwaukee School of Engineering in Wisconsin.
Vote on this Story by clicking on the Icon