SCOTIA — Rep. Paul Tonko stopped in challenger Bob Dieterich's hometown to hear resident's thoughts and concerns as Election Day draws nearer and while the crowd showed him substantial support, Dieterich's presence could be felt even though he wasn't present.
There was a full house with standing room only at Tonko's town hall styled meeting on Monday, Aug. 6, in Scotia at Lincoln Elementary School's cafeteria. Several residents aired grievances and worries about the country's slow economic recovery, stagnant employment growth and the increasing influence of super PACs on politics and government priorities.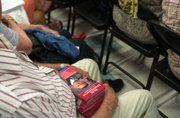 Attendees were mostly supportive of Tonko's message and replies, but Dieterich's presence was lingering, with some of his supporters appearing in the Republican's campaign shirts and even bringing campaign pamphlets.
Before Tonko addressed the crowd there were around half-a-dozen Dieterich supporters rallying outside the school as people entered. Dieterich announced beforehand he wouldn't attend the meeting so as not to "make a circus" at the event out of "respect to the office." He did urge supporters in his statement to attend and "force Paul Tonko to defend his ridiculous claims" made at previous town hall meetings in Colonie and Albany.
Near the end of the hour-and-a-half meeting, Tonko faced his first question from a clear Dieterich supporter.
"You've been a career politician basically for 30 years … it has been 30 years since you lived off the taxpayer's dime," said Glenville resident Marc Depew. The audience reacted with a mixture of "boos" and clapping.
"The little guys like us who do pay a mortgage and go to work every day at a real job," Depew said before being interrupted by the audience, "we are wondering why you think that you would be a better congressman than somebody like Bob Dieterich who has worked his way up through the ranks."
(Continued on Next Page)
Prev Next
Vote on this Story by clicking on the Icon