continued — The newly redrawn 20th Congressional District includes Albany and Schenectady counties and portions of Montgomery, Saratoga and Rensselaer counties.
At the meeting, small business co-owner Ed Capovani, vice president of Capovani Brothers, Inc., said he's frustrated "the people in this room don't have a say in government" and campaign finance reform is needed so people can have their voice heard.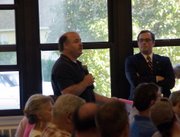 "When you have someone like our candidate for president (Mitt Romney) who paid 13 percent in taxes because of the loopholes in this country, it is disgusting," Capovani said.
Capovani said if Tonko plans to support ending the Bush tax cuts he also must work to close the loopholes.
Regarding super PACs, Tonko said he is pushing to first force the groups to disclose who or what special interest is donating to the political committees. He said PACs are accountable, but super PACs go unwatched.
Constitutional reform, which Tonko said would be the next step, would likely take longer to achieve.
Rick Sawyer, of Scotia, said the economic disparity is growing in the country, with "42 percent of the wealth of this country is controlled by 1 percent of population."
Sawyer said if wealth was more equitable most of the troubles and concerns facing Americans today wouldn't be happening.
"There is a upper class and a lower class — there is no middle class," Sawyer said.
Tonko said the middle class is "at risk" and he pushed for a middle class tax cut to lower expenses for 98 percent of the population, but GOP leaders wouldn't approve the measure.
"When you've had exponential growth in the income in households of the 1 percent and 2 percent and you've seen a flat line or a dipping south of the middle class, that ought to be an alarm," Tonko said. "We cannot continue that way."
Vote on this Story by clicking on the Icon