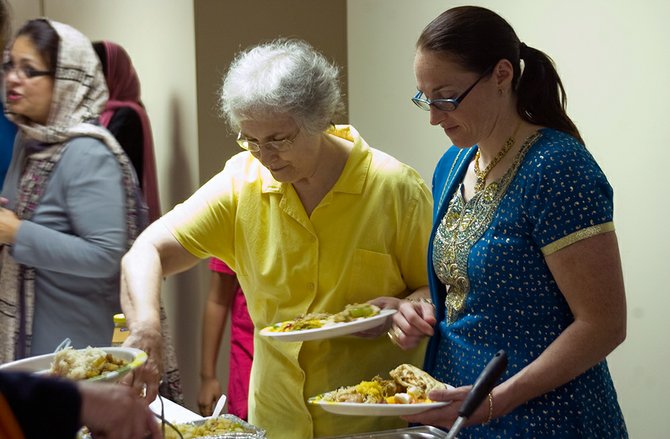 ROTTERDAM JUNCTION — Religion can be a divisive force, but one group of women are devoted to breaking down barriers and inspiring unity, all while sharing some Nan.
The women's auxiliary of the Ahmadiyya Muslim Community in Rotterdam Junction hosted its second Interfaith Iftar Dinner on Friday, Aug. 3, at its mosque on River Road. Women of different faiths came together in a day of fasting to show solidarity and support during the month of Ramadan, which runs from July 19 to Aug. 18 this year.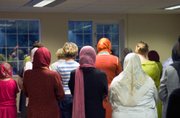 Tahira Khan, of Glenville, said the members of the mosque hold the event to show similarities between different faiths. Fasts play a role in holy observances in several religions, such as Judaism, Christianity and Islam.
"We try to join together to highlight that we have so many more things in common than things that divide us," Khan said. "It is just an enjoyable process for us all that we can reach across the aisle and meet our other sisters, dynamic women, who are inspiring to us, too."
During Ramadan, Khan said if someone were unable to fast then they would donate money typically spent on food that day to a charity or group helping feed the poor and hungry.
"That's their joining into the spirit of sacrifice," she said.
Most of the women at the dinner had joined in fasting, but many said they unconsciously kept reaching for food.
Saratoga Springs resident Elizabeth Wickerham, a Roman Catholic, said she came to experience Muslim traditions firsthand.
"We talked before … not about our difference, but really about our likenesses," Wickerham said.
Linda LeTendre, also of Saratoga Springs, said she considers the interfaith gathering of women a "sister congregation."
Elizabeth Meehan, of Ballston Spa, echoed her and said she enjoys being active with the Ahmadiyya Muslim community because it is like a fellowship and the members gave her a warm welcome.
(Continued on Next Page)
Prev Next
Vote on this Story by clicking on the Icon