continued — LeTendre, a Christian, said the group is more than willing to help with any projects to benefit the community.
"If there is good works going on around here you can bet these people are a part of it," she said.
The local mosque has made several outreach efforts recently, including helping feed Rotterdam Junction residents working on homes after the recent flooding, giving out Baskets of Peace with cookies and pastries during Christmas and planting fruit and vegetables to give away to the community.
"Anything that we are able to do … that benefits humanity and crosses borders, that is something that our ladies are very interested in joining in and being a part of," Khan said.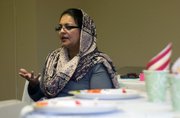 The interfaith dinner started with Khan talking about the similarities between fasting in different religions and then a child read a passage from the Quran. A few dozen people gathered for the event.
"When you actually fast you realize how blessed we are," Khan said. "Most of us in this room are blessed that we haven't felt real hunger or real thirst. … It is a lesson showing us that we have willpower, we can do things."
Before partaking in the feast, with several Indian dishes warm and ready to fill hungry bellies, several people from different faiths joined together in a traditional Muslim prayer before breaking bread.
Khan said different religions have the same goals, but each takes their own pathway to get to it. She hopes other people will take a similar pathway to unifying other faiths.
"I'm hoping what we do today will have a ripple affect and go to a much wider audience in the Capital District," Khan. "It is amazing how many women are of like mind."
Vote on this Story by clicking on the Icon