continued — Wayne Roberts, owner of Tough Jets, also was at the event and he took his own model T-14 for a fly. Before moving to Maine, Roberts lived in Albany. Three years ago he started his business after getting several requests to build the planes for others.
"There is a lot of attributes from different planes that I liked from other manufacturers and I just lumped them all into one," Roberts said. "I just wanted a plane that was really durable, so it is made out of unconventional modeling materials."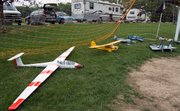 Club Treasurer Sherrill McGill said the event was started seven years ago to get club members together and show off their sport to the public.
"It brings wonderful people together, other flyers from other clubs, and we've had several new members," McGill said.
When children come, an experienced flyer will pair up with them and show them the ropes during a test flight, McGill said.
Club President John Hackert said town officials watched the planes fly a few times before giving the event the OK a few years ago. Electric models are much quieter than gas powered, he said, so there is little concern among neighboring residents.
The electric planes have also been dubbed "park flyers," he said.
"You can fly them in a park and it is not going to bother anybody," Hackert said. "Even if you crash them, the likelihood of doing any kind of damage is small, because they are lightweight and made out of foam, or lightweight balsa wood."
For information on the local club and to find out about future events, visit epaclub.com.
Vote on this Story by clicking on the Icon