ALTAMONT — Last year, thrill seekers got their rush from the rotating, pendulum ride "The Stinger" at the Altamont Fair. This year, Rick Reithoffer will provide another exclusive experience.
Called "Speed" and classified as an ultimate thrill ride, two giant arms on a pendulum take riders 140 feet into the air as four riders on each arm rotate 360 degrees. The machine's 13 revolutions per minute then accelerates the G-force on riders, making them feel as if they're in a free fall.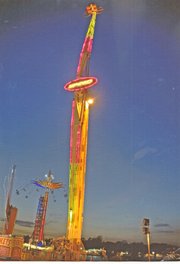 "If you liked The Stinger, you will like Speed," said Reithoffer. "My son says it is the baddest ride we have in our arsenal."
The ride is produced by a Dutch company and is very popular overseas, but in North America the only way to experience Speed is through Reithoffer's 116-year-old family business.
The ride can reach more than 70 MPH and those on board will feel the exhilaration of stopping about 12 inches above the ground before being shot back up into the air. Although the Reithoffers have owned the ride for several years, the 119th running of the fair will be its debut in Upstate New York.
Reithoffer's is also providing the giant swing ride "Vertigo," which is new to the fair and takes riders 80 feet into the air.
The Altamont Fair runs Tuesday, Aug. 14 through Sunday, Aug. 19. Parking is also free with the price of admission.
"It isn't as extreme," said Reithoffer. "Parents can go on this with their children and they won't be scared to death, provided they meet the height requirements."
The rides are checked each week by inspectors and by the state Department of Labor, according to Reithoffer. They are also ridden each day by employees before opening to make sure each is working properly.
Some favorite attractions will be returning to the fair, such as the Disc-Connected K9's World Famous Frisbee Dogs show, owned by former Frisbee champion Lawrence Fredrick.
(Continued on Next Page)
Prev Next
Vote on this Story by clicking on the Icon