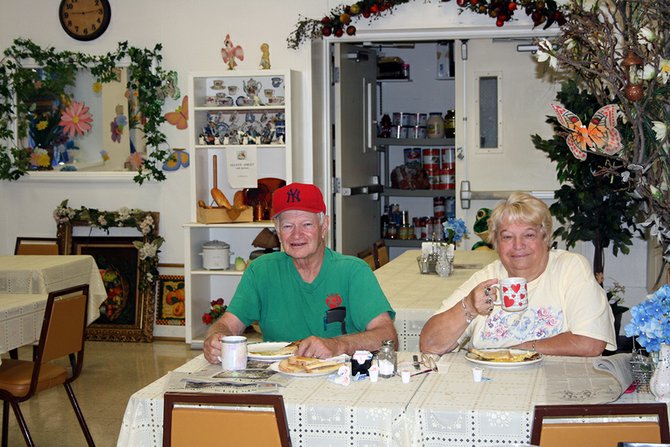 continued — Often times, seniors at the center provide feedback on what they'd like to see offered, and the center tries to accommodate the requests. The backbone of the center, though, is a strong volunteer and worker base, which helps offer the variety.
"We have a very large cadre of volunteers," Langer-Smith said.
She is relatively new to the center, stepping into to her position on April 9, so hearing feedback from the community was important.
"I wanted explore what the center had," she said. "I wanted to listen to the seniors and their needs and just sit back for a while and see."
After retiring from the state last summer, she had some free time between employment as an adjunct professor at Schenectady County Community College. She also knew Supervisor Harry Buffardi from the college, where he also taught.
"It just seemed like a good fit," she said.
One thing she quickly learned was the most popular thing offered at the center is bingo, which is run by volunteers. Around 35 to 40 people will show up for an afternoon game.
During the previous town administration, the senior center often stewed with controversy, as the members of the public and center workers voiced outrage over former supervisor Frank Del Gallo's decisions.
In January 2011, several residents protested the transfer of a senior center employee, along with three other town employees, which Del Gallo said was done for cross training and was within his authority.
Senior Center employee Molly Collins was moved to fill a vacant position as a typist in town court. Collins was slated to retire in two years, but the training for the typist position is estimated to take 18 months.
All four of the town employees were eventually moved back to their positions after fellow town board members voted to undo the supervisor's switch.
In February 2011, Del Gallo removed former center project coordinator Diane Marco, who was elected Town Clerk last election, despite consulting with fellow board members on the decision.
Once again, members of the public cried out against Del Gallo's decision.
The position remained vacant, Buffardi said, until Langer-Smith was hired this year, which returned some stability to the administration.
"Eileen Langer-Smith is a very smart woman and she works very hard and she has a background that is suitable to running the center," Buffardi said. "I attribute any success we are having now to her."
Vote on this Story by clicking on the Icon