NISKAYUNA — A big league celebration launched the Niskayuna 15-year-old division Babe Ruth baseball team's long trip to a field many of them had only dreamed of reaching.
The Niskayuna Warriors earned their colors with an undefeated run through the Mid-Atlantic Regional series and advanced to the Babe Ruth World Series in Van Buren, Ark., marking the first time any team from the town has reached the pinnacle tournament. The tournament runs through Sunday, Aug. 26.
Family and friends came together at Blatnick Park Thursday, Aug. 16, before the team loaded its gear into vans and headed to the airport. A battery of cameras snapped away as parents and members of the media vied to capture the team holding its congratulatory banner.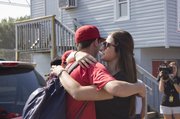 "It is a once in a lifetime chance," Right Fielder Kyle Pick said. "Not a lot of people get this, so we are just going to live it up to the fullest. We are going to take it slowly, just take everything in, and we are just going to get along and have some fun."
Making it to the World Series means a lot to the members of the close-knit team.
"This team has been together since we were like 10 years old," Pick said. "We just have a bond that not a lot of teams usually have."
Pitcher Adam Gleason said the players work well together and "took it inning by inning" in the season leading up to the World Series. When the team was down on the scoreboard, the players never gave up, Gleason said.
"We know each other's strengths and weaknesses and we work to our strengths," he said.
Pick said the team made one goal at the beginning of the season — to make it Arkansas.
"We just worked for it," he said. "We knew what we had to do to get there and everybody just stepped up and they did their job. We just came through and we made it here."
(Continued on Next Page)
Prev Next
Vote on this Story by clicking on the Icon