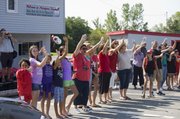 continued — The team might have reached its goal, but the players weren't calling it quits yet. Now, their goal is to capture the World Series and top the best teams in the nation.
Closing pitcher Brian Toy said the teams they'd face would probably be "bigger and better" than teams they have played before. Also, never playing any of the teams before is another challenge to overcome.
But with a strong offense, several players said the series could Niskayuna's for the taking.
"If our hitting stays the way it is we could win this whole thing," Pitcher and First Baseman Tommy Favata said.
Catcher Tommy Spataro said the team's triumph "hasn't really sunk in," even as the vans were being packed for the trip ahead.
Spataro said Coach Chris Bianchi told the team to "remain humble" in the face of what is already a great success.
"They don't look past any game," Bianchi said. "They know they've got to play as well as they can in every game and that will obviously continue with the teams that we are going to play down there."
Bianchi said the camaraderie of the team has been an important aspect in reaching the World Series.
"They pick each other up, so the lows don't get too low and they stay pretty steady," he said. "I think it has helped them to stay and play more consistent."
He said the team is going to be as confident as any team they'll face in the World Series and knows what it can accomplish.
"We are in a good place mentally and we are healthy, reasonably healthy considering the number of games we played," he said. "Hopefully we will do well."
Making it to the World Series is a great accomplishment, but for Bianchi he said it is all about how proud he is of the team.
"When you coach kids, you want it for them more than for yourself, and all the credit goes to them," he said.
Vote on this Story by clicking on the Icon