GLENVILLE — A rural road damaged in Tropical Storm Irene remains closed today, leading residents and town officials to wonder when — or if — a permanent solution will be found.
A scenic portion of Wolf Hollow Road winding through a historic geological fault, Wolf Hollow Gorge, in the Town of Glenville, was closed shortly after Irene. County officials determined the road, which is commonly overrun with water during periods of heavy rain, was no longer safe for vehicles to travel.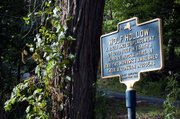 Now, a full year after the storm, Schenectady County and town officials are trying to determine if it will reopen after extensive repairs — or what the effects will be if it remains shut.
The closure has not greatly affected traffic because the roughly 1.1-mile portion of closed roadway runs parallel to another, less commonly used street, Hoffman's Hill Road. The two roads meet at a fork and drivers would typically follow Wolf Hollow Road, or County Road 59, but now drivers are forced down the side road.
Town Supervisor Christopher Koetzle during the Glenville Town Board's meeting on Wednesday, Aug. 15, said the town and county have received phone calls and letters from residents of Hoffman's Hill recently.
"Concerns are generally about signage, road conditions, winter maintenance and emergency services," Koetzle said. "Access to the Hoffman's Hill Road homes is another concern of theirs. We will be working with Schenectady County to help address these resident concerns."
County officials could not be reached for comment. Town Highway Superintendent and Public Works Commissioner Thomas Coppola said the road was closed due to "stabilization" issues.
"It is really hazardous what is going on there, and it needs to be addressed," Coppola said. "There is just no quick fix for that road … there is no money to put into the project to do it."
(Continued on Next Page)
Prev Next
Vote on this Story by clicking on the Icon