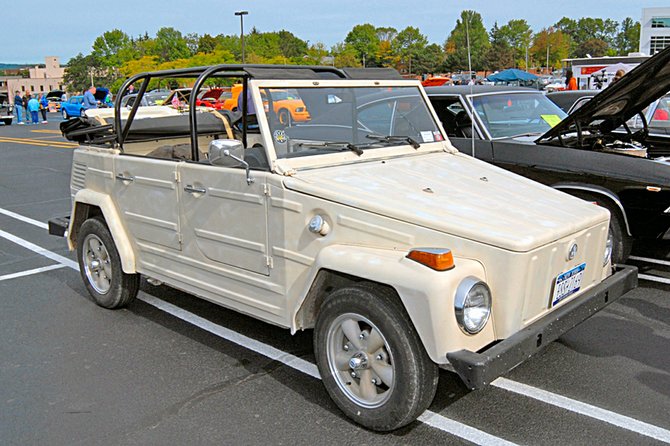 continued — In addition to the judged categories, every car in the contest is entered into the People's Choice category for free. Attendees pay a dollar to select their favorite car, whether they think it is the ugliest or best looking car. The vehicle with the most votes will receive a trophy.
The 14 judged categories include Best Muscle Car, Best Hot Rod, Best Import, Best Mustang, Best Custom Renovation, Best Stock/Stock Renovation, Best Sounding Pipes, Best Paint, Worst Paint, Best Pin Striping, Best Stock Motorcycle, Best Custom Motorcycle and the coveted Ugliest Car award. Trophies will be awarded for first through third place in each category.
Peterson is hoping this year the ugliest car will be truly worthy of the title.
"Last year it wasn't ugly at all," Peterson said. "It was a VW Thing in beautiful condition."
Day of registration fees are $12 for the first category per car and $10 for each additional category, but there is a $2 discount for early registration. The first 100 cars will each receive a commemorative dash plaque.
Proceeds from the event will support the Schenectady Kiwanis Club's Youth Services grant program, which provides funds for children's organizations throughout Schenectady County, and M.A.D.D will also receive a portion of proceeds.
The Schenectady Kiwanis over the last several years has presented Youth Service grants to dozens of organizations serving children, including the Boys & Girls Clubs of Schenectady, Junior Achievement, YWCA Northeastern NY, 4-H and Northeast Parent & Child Society. Last year, the club gave more than $4,000 to organizations.
"All of that money went back into Schenectady … it stayed right here," Peterson said. "It's all about supporting youth and people in the community."
Last year's event saw only 25 cars turning out, but this year Peterson is hopeful the event will really take off. Everyone attending last year said they would return, hopefully along with some of their friends.
"From what we understood that was actually a good turnout for a first time," she said. "This year we plan on blowing the doors off it."
The club is looking to raise $6,000, which is $2,000 more than last year.
For information on the event, including registration forms, vendor applications and an event schedule, visit www.uglycarcontest.org.
Vote on this Story by clicking on the Icon