NISKAYUNA — Another grocery store option is planned for a town budding with food options, with a familiar name presenting a new choice for shoppers.
Wal-Mart on Friday, Aug. 24, announced the company would open its first Neighborhood Market in the state at Mansion Square in Niskayuna. All town approvals have already been secured, and work on the site has already begun. The smaller storefront is to be 40,000 square feet, about a quarter of the size of a Wal-Mart Supercenter, and will employ about 90 people.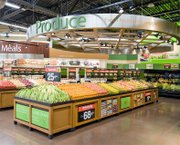 Highbridge Development President John Roth said its development team has worked closely with Wal-Mart to bring the new concept to Mansion Square. Roth also touted Mansion Square is now being more than 85 percent leased out. The market will serve as the anchor for the shopping center.
Bill Wertz, spokesman for Wal-Mart, said the company has increased efforts to make its stores more convenient for customers and has taken a "more flexible approach" to communities.
"Our Niskayuna store will offer a quick and convenient shopping experience for customers who need groceries, pharmaceuticals and general merchandise," Wertz said. "It is the first one that we have announced in New York State, but we are expanding this format around the country."
The first Wal-Mart Neighborhood Market opened in 1998 and there are now more than 200 of the stores nationwide. In addition to groceries, the store will offer health and beauty aids, stationery and paper goods, deli and bakery items, pet supplies and a pharmacy.
Wal-Mart is projecting to open the Niskayuna store by mid 2013. Wertz said it is company policy to not disclose any information on how much construction and development will cost.
He said the smaller stores have been successful in other areas and the Niskayuna site presented a good opportunity to introduce the store concept to the area.
(Continued on Next Page)
Prev Next
Vote on this Story by clicking on the Icon