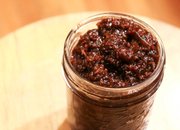 Junco and her husband work full time for their business, FUNctionalArt4Kids. Etsy is only one facet of it; they travel to shows around the country and still man booths at local festivals. But Etsy is a great way to showcase the functional art they sell that's geared toward kids. They sell desk caddies, jewelry holders, treasure boxes and wall art that's ready to hang. There's no glass on the wall art, since Junco said she's always worried glass could fall and break.
Junco said they've found that parents like their items because they're not just toys, and kids are drawn to the vibrant colors and functionality. The price point is also a selling point; Junco tries to keep everything under $20.
Christine Robinson's Etsy offerings won't break the bank, either. In her Sam's Jams store, Robinson, of Schenectady, sells jams, jellies, baked goods, apple butter and pickles. An 8-ounce jar of bacon jam is $8; an 8-ounce jar of applesauce costs $5.
Robinson has received orders from all over the world since joining Etsy. Just last week, she shipped a package to Norway. She's also sent her products to California, Florida and Massachusetts. That kind of reach is what she loves about Etsy.
"I couldn't afford to pay for that kind of advertising," she said.
Robinson, who started to make jams and jellies because she doesn't like to waste anything, said she thinks she's found a niche on Etsy because she offers unique products. She has Mountain Dew jelly and white chocolate raspberry with Kahlua, one of her most popular flavors.
Laurie McGill's Etsy offerings are also a product of not wasting things. McGill has turned bottle caps into magnets, keychains and mores. She also sells jewelry, including glass pendants and earrings, in her believeinURdream store.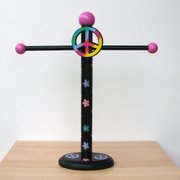 The first thing McGill ever sold was a stuffed witch's boot that she called folk art. The woman who bought it contacted McGill afterward and asked if she could make another one so the woman would have a pair. Later, McGill made some ice skates that were similar fiber art, and the woman bought those. While it was great to have such a devoted customer, McGill realized that the fiber art was very time consuming, so she switched gears to the jewelry and decorative items, although she does still sell fiber arts around the holidays. It's a way to get people into her store and have them see her other offerings, she said.
Vote on this Story by clicking on the Icon