When Sofia Capek auditioned for "The Nutcracker," the 8-year-old from Schenectady was hoping to merely land a part – any part.
"Just being in it would be a great honor," she said.
Then she got word that she was going to be Clara, the lead, and she was "super happy."
So was her mom, who, it turns out, was Clara herself as a kid. Lucie Capek, a plastic surgeon in Latham, was once a serious dancer who had aspirations of making it her career. When she was 12, she was cast as Clara in the National Ballet of Canada's production of "The Nutcracker." It's an experience that she calls life changing.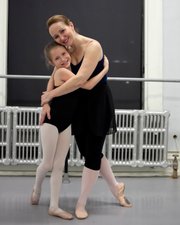 "It was an unexpected honor to be picked," she said. "You're being singled out for something really special."
Lucie Capek has never forgotten the thrill of being chosen to play Clara, and she loves that her daughter is experiencing it, too. Lucie actually has a front-row seat for Sofia's performance with the Northeast Ballet Company; Lucie plays a partygoer in "The Nutcracker," which will be staged Saturday and Sunday, Dec. 8 and 9, at Proctors in Schenectady.
It's all a little surreal, seeing her daughter play the role she once filled and sharing the stage with her.
"It just feels like such a once-in-a-lifetime experience," Lucie said.
It's not uncommon for Northeast Ballet to have a mother-daughter combo in the annual "Nutcracker" show, but there are a surprisingly high number this year. There's even a mother-son duo.
This is the 25th year Northeast Ballet has put on the show at Proctors, which Artistic Director Darlene Myers called "the perfect venue" because of its elegance.
"It's fun – it's not stiff, but it still has the Victorian twist on it," she said.
"The Nutcracker" revolves around young Clara and a nutcracker she gets as a Christmas gift. It's the hit of a party her parents are hosting until her jealous brother breaks it. Clara is heartbroken, but her godfather quickly repairs it. Tightly clutching the nutcracker as she falls asleep, Clara has wild dreams featuring a giant nutcracker, an army of toys, the Land of Sweets and more.
(Continued on Next Page)
Prev Next
Vote on this Story by clicking on the Icon