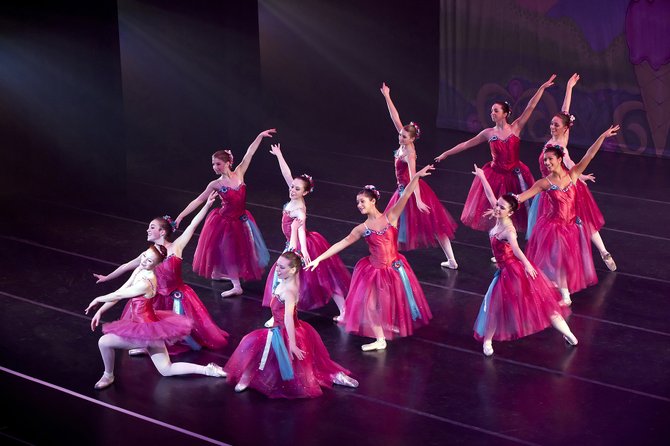 Sofia Capek described Clara as "very imaginative because of her dreams," noting that her parents spoil her and she doesn't like her brother. As for herself, Sofia likes dancing because moving to music "interacts with who you are." Being on stage, she added, is a rush.
"It's very fun to know people have come from all over to see you," she said.
Lucie Capek said her daughter used to be pretty shy, but she's blossomed under Myer's tutelage. Capek took her daughter to Northeast Ballet on the recommendation of a neighbor after Sofia had been dancing for a while at a different place. She's been dancing since she was 3, when her mom noticed how much she enjoyed moving to music.
Myer holds auditions for "The Nutcracker" every September that are open to the public, not just Northeast Ballet members. She was excited that Sofia wanted a part.
"She's a very good little actress," Myer said. "I really wanted to use those talents and highlight it."
Myer said Sofia is a serious student who excels at timing and "musicality."
"She really has an ability to have the audience drawn to her," Myer said.
There are roughly 150 people in the show, including Beth Alexander, co-owner of Hattie's Restaurant in Saratoga Springs, who was an early member of Northeast Ballet and will play Clara's mother. Alexander's daughter, Zoe, was Clara at the Annual Nutcracker Tea that benefits the Saratoga Performing Arts Center.
Wendy Whelan and Charles Askegaurd of New York City Ballet are filling guest roles as the Sugar Plum Fairy and her Cavalier, and Richard Gatta and Matt Prado are taking a break from Broadway to perform in "The Nutcracker."
Tickets for "The Nutcracker" are $20 to $40 and can be purchased at www.proctors.org.
Vote on this Story by clicking on the Icon