BETHLEHEM — Some caring citizens have stepped forward to help out the Bethlehem Lions Club after a holiday Grinch stole dozens of Christmas trees from the lot where the group's annual sale is held.
Club members Dan Ryan and Ulrich Rudofsky, co-organizers of the sale, said 34 trees were stolen on the night of Friday, Nov. 23. The estimated value of the trees was $1,200.
"They hadn't even been on the lot 24 hours before they were taken," said Ryan.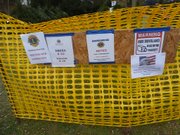 This year marks the Lions Club's 26th annual Christmas Tree Sale. The trees are ordered each year from a company in Nova Scotia and shipped directly to the lot the day after Thanksgiving. Members had gone to open the lot for the first time this year on Saturday, Nov. 24, and soon realized the trees were gone.
"It's our custom to count the trees each night when we close and each morning when we open, so that's how we knew the trees were gone," Ryan said.
About 350 trees are typically sold during the club's sale, which is a major fundraiser for the Lions. The money is used for various programs sponsored by the club, like purchasing hearing aids for senior citizens or glasses for needy children, funding the File of Life project in conjunction with Bethlehem Senior Services or sponsoring scholarships for graduating seniors.
"They're not taking this money out of our pockets, but out of the pockets of someone who needs a hearing aid or others in need," said Ryan. "This all goes back to the community."
But in the days following the theft, spirits were lifted as several people stepped forward to help offset the loss.
Ryan said Dan Brown from Saratoga Surveillance offered to come down and look at the site for free. On Wednesday, Nov. 28, he inspected the lot and installed several surveillance cameras and a computer system to view the footage at no charge. There is enough memory in the system to last the four weeks of the sale. Jack Scheriff from Stuyvesant Falls donated $500 because he felt the situation was awful, or more accurately, "a lot of things that can't be said in the paper."
(Continued on Next Page)
Prev Next
Vote on this Story by clicking on the Icon