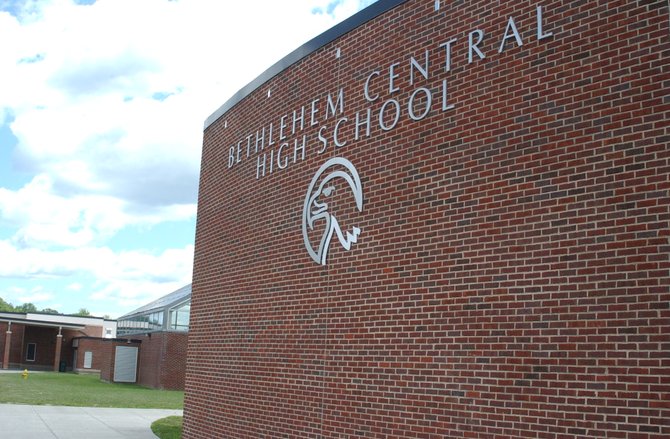 continued — "We're looking at a list that has everything but the kitchen sink in it, but we really wanted to be comprehensive," said Heukrath.
The list contains some upgrades that were not previously identified, like security cameras in the high school. Board member will eventually need to decide what items they think should not be included in a bond referendum to be voted on by the public.
Costs to upgrade and repair district properties beyond the schools totaled about $900,000, according to the Ashley McGraw team. Technology upgrades, including backup storage for emergencies, would cost about $1.3 million.
In total, costs for infrastructure upgrades were estimated at $15.2 million, about $3 million more than expected. Those figures do not include upgrades to the athletic field.
Peter Osborne of Appel Osborne Landscape Architecture in Syracuse worked with the design team and presented four options to upgrade the field. The least expensive option would include resurfacing the existing track and improving the drainage of the grass playing field for a cost of $1.6 million. The most expensive option would include a installing a new multi-sport turf athletic field with a new eight-lane track for about $4.3 million.
Osborne said most of BC's practice fields need upgrades, especially some of the soccer fields, and agreed the playing field does need a better drainage system. He said although keeping the grass playing field is cheaper, maintenance costs are nearly three times those of an artificial field. A turf field could also be used about four times more often than a grass field, he said.
"A grass field can only take so many activities before you beat it up, and weather plays a huge factor in that," he said.
The estimated cost for the entire project along with a new turf field is about $26.6 million. That figure also includes incidentals or "soft cost" expenses, and does not account for state aid or potential energy efficiency grants.
Vote on this Story by clicking on the Icon