ALPLAUS — A new captain is stepping to the helm of the Capital Region Maritime Center, as a Clifton Park-based private school expands its offerings to middle school students.
The Saratoga Academy for the Arts and Science and Maritime Center officials announced on Monday, Dec. 3, an agreement to create a new middle school serving fifth to eighth graders, at the Alplaus facility along the Mohawk River. The new school, Saratoga Academy for Leadership and Maritime Programs, will open its doors to students next September. The not-for-profit school will lease the facility for three years at $90,000 annually, with an option to renew the agreement.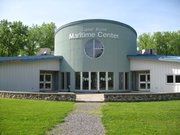 Michael Christensen, founder and headmaster of Saratoga Academy, said the academy saw a need for the middle school.
"Our school was tapped out at sixth grade and we didn't see a proper fit in terms of a transition for the kids we have in-house," Christensen said. "We certainly have the in-house need and then we saw a lot of demand from the outside community asking us … 'When are you going to do a middle school?'"
Christensen said around 235 students attend the Academy's elementary school. The new middle school will have a minimum of 20 students enrolled, with the goal of reaching 50, he said. Five to 10 staff members are expected in the first year and that could increase to around 25. The second school year, he hopes the middle school serves 100 students.
Another benefit for the Academy is freeing up space at its facilities in Saratoga County, which will allow it to serve more elementary students.
"As we are expanding vertically, we are expanding horizontally as well," Christensen said.
The partnership between the Maritime Center and Saratoga Academy was spurred by a suggestion from Chamber of Southern Saratoga County President Pete Bardunias to Christensen. Bardunias knew both organizations were searching for a new partnership.
(Continued on Next Page)
Prev Next
Vote on this Story by clicking on the Icon