NISKAYUNA — You'd might think sweet tooth is a contagious affliction given the recent scene at the Niskayuna Price Chopper.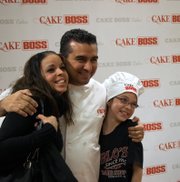 A line stretched throughout a local grocery store on Friday, Nov. 30, as fans of Buddy Valastro, star of the TLC reality show "Cake Boss," clamored for books, cakes and a chance to meet the big-time baker.
Valastro made a special appearance at the Mohawk Commons store to take pictures with fans and sign his books, "Cake Boss" and "Cooking Italian with the Cake Boss," as well as boxes of his new line of cakes.
Jaylen, 10, and Laurann Belivau, from Pine Plains, were the first people in line. The two staked the spot out even though they lived an hour-and-a-half away. They were going to see Valastro's show later that night at Proctors, too.
"I did a biography on him in school," Jaylen said. "I kind of just like to watch and learn different techniques and tips."
Jaylen said it was "really cool" to meet Valastro and it was worth showing up plenty of time before he arrived to get their place in line. Jaylen said her favorite things to bake are cupcakes and cakes.
Erik Voss, of Ballston Spa, came with his daughters, Madison and Camryn, to meet the Cake Boss. Voss said his daughters are avid watches of the show, which features some family drama as a side to the grand and inventive cakes crafted.
"These two watch him every morning," Voss said. "They DVR it and they watch it before school every morning."
The Cake Boss line of cakes will be sold at Price Choppers throughout the area.
Vote on this Story by clicking on the Icon