Any parent knows a stuffed animal can provide quick comfort to a child. And this holiday season, a local family service agency is trying to ensure as many kids get that gift as possible.
After a friend approached Loudonville Home for Adults Assisted Living owner Michael Levine about donating teddy bears to Northern Rivers Family Services, he said it seemed like a "natural thing for us to do."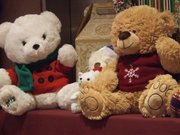 "Around the holidays we like to try to something for somebody," Levine said. "I think teddy bears are all about a loving feeling, a comfort. Children really need those things, especially around the holidays."
This year, the adult home decided to work with Northern Rivers, which is the parent organization for both Parsons Child and Family Center and Northeast Parent & Child Society, by donating brand new teddy bears for the "Every Child Needs A Teddy Bear and Every Teddy Bear Needs A Child" campaign through Friday, Dec. 14.
Many children helped by the organization have come from unstable living conditions and the agency offers counseling services, child abuse/neglect prevention and treatment, parenting education and family strengthening. The services provide mental and behavioral health and children's welfare programs to more than 15,000 children and families in the Capital District.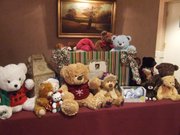 Although the Loudonville Home for Adults usually collects things like canned goods for charitable drives, Executive Director Melissa Brown said she talked to the residents at the home to see what charity they would want to be a part of.
"We really try to talk to our residents to see what they want to do for the community," Brown said.
She said the residents agreed on donating the teddy bears to the children's organization.
"Anything for children, especially children that don't have things or don't have parents or have been through some abusive situation," Brown said.
(Continued on Next Page)
Prev Next
Vote on this Story by clicking on the Icon