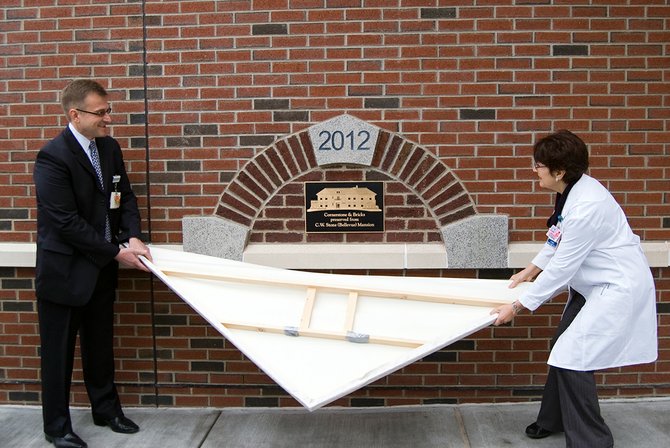 NISKAYUNA — Expecting mothers should feel more comfortable at the new Bellevue Woman's Center, which features more spacious rooms, modern amenities and warm color palettes.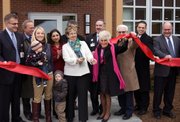 Ellis Medicine representatives, local officials and community leaders gathered on Friday, Dec. 7, to cut the ribbon on Bellevue's contemporary 32,000-square-foot addition connected to the existing hospital. The construction took a year and cost $16.8 million, which was mostly obtained through federal Housing and Urban Development financing and philanthropy.
"We are here today to celebrate a very special delivery on this very cold day," said Deborah Mullaney, chairwoman of Ellis Medicine's Board of Trustees. "It has been Bellevue's privilege to serve women and families across our region for more than 80 years. We are proud to continue that tradition … by bringing you a more modern Bellevue while still honoring its rich history."
The new building's cornerstone uses bricks and keystones preserved from the former Bellevue mansion frame, with a plaque depicting the original structure. More than 100,000 babies have been delivered at Bellevue, and 2,600 deliveries are expected this year.
"It is as pretty inside as it is on the outside," Ellis Medicine President and CEO James Connolly said.
Ellis began caring for women in the new facility three days after the unveiling ceremony. Connolly said it was the perfect time to open the addition.
"The older part of the hospital is filled up and there is no room at the inn, and we need to create some room," Connolly said.
The ground level offers expanded spaces and more private rooms for patients. There are 28 rooms, with six being semi-private, an open and welcoming day room, along with a centralized nursing station.
The second floor is home to the Neil and Jane Golub Breast and Heart Health Center, which will offer mammograms, ultrasounds and bone density screenings using state-of-the-art equipment. Comprehensive cardiac screenings will also be offered, which is unique program for the region.
(Continued on Next Page)
Prev Next
Vote on this Story by clicking on the Icon