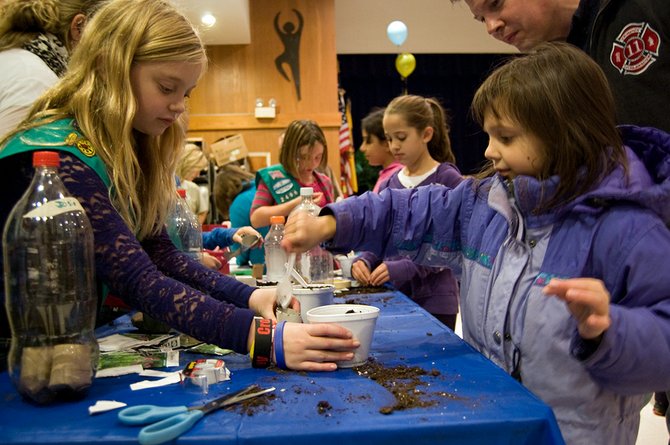 continued — The mission of environmental education was underway at the recent Nature Exploration Event. Dawn Baldwin, an animal specialist from the Children's Museum of Science and Technology, discussed the importance of nature education while students interacted with animal artifacts. Reptile Adventure showed off some more exotic animals.
Colleen Castle, master gardener volunteer with Cornell Cooperative Extension, presented information on gardening and composting. Castle said using a red wiggler worm people could turn household waste into a compost pile. The worms are not native to the area, so the worms must be kept in a heated area.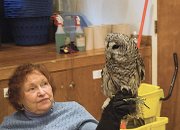 "You can keep it under your sink," Castle said. "There is no smell. There is no soil. It is just compost … and then you put it in your own home gardens."
Local Girl Scouts showed how a clear plastic 2-liter bottle could be transformed into a greenhouse using household items.
Despite overcast weather, some kids went out on a tour of the old nature trail.
"It's a little wet, but they insisted on going," Foley said.
The nature park initiative has its roots in a list of wants and needs from teachers. Restoring the nature trail was one of the suggestions, along with creating a beautiful garden, enhancing the school's reading room and introducing more technology to classrooms. Introducing sustainability practices into the school, such as composting, is another focus of the nature initiative.
"We are kind of meshing the old and the new together," Foley said. "We thought that some of the teachers' wants and needs could really be packaged together."
Future grants, Foley said, could target technology upgrades and see children bringing tablets into the outdoor classroom. Even if the school doesn't get the Clorox grant, she said the PTO is going to keep seeking ways to secure funding.
"We have big dreams and we hope to make them a reality," Berndt said.
Vote on this Story by clicking on the Icon