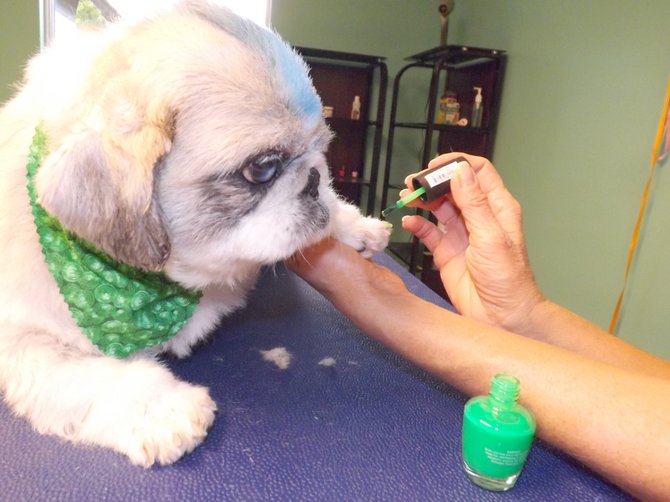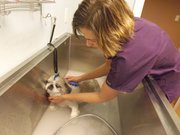 continued — Spanky got the full treatment during his visit, including a plum facial, a Mohawk haircut complete with blue dye, green toe nails and even a massage and acupuncture treatment. Dr. Frank Akawi, who practices at the Greenfield Animal Hospital, integrates the principles of traditional Chinese veterinary medicine and acupuncture into his Western medical background. During Spanky's visit, Dr. Akawi performed both massage and acupuncture, which didn't seem to hurt Spanky a bit.
"The benefit of massage therapy is an increase in blood flow into muscles and ligaments," said Akawi. "This helps them to repair themselves."
Dr. Akawi is a firm believer in acupuncture in dogs.
"It helps with Qi. It helps balance the body. Stomach 36 — the master point of Qi — literally means longevity. I believe it helps them to live longer," he said.
In a nod to traditional Veterinary treatment, the hospital also offers a state-of-the-art laser that is used on athletes to repair tissue immediately and stimulate new tissue growth.
The Greenfield Animal Hospital is located on Route 9N in Greenfield Center, and on the web at greenfieldvets.com.
Vote on this Story by clicking on the Icon