GLENVILLE — Some might see a road that's been closed since Tropical Storm Irene a symbol of that storm's devastation. But preservationists see a scenic walkway through an historic area.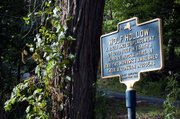 The Mohawk Hudson Land Conservancy recently started an initiative to protect more land around the Wolf Hollow geological fault after securing two easements protecting around 140 acres. This year, the group has reached out to landowners interested in protecting their property and started a fundraising effort to assist with associated costs, such as completing surveys and endowments. It hopes to soon secure another easement to protect more than 100 acres within six months.
Jeff Leon, steward of Strawberry Fields Farm and Nature preserve in Amsterdam, said the area is targeted by the state's open space plan for protection. But the area largely remains a secret to the general public, he said, despite its historic designation.
Wolf Hollow Gorge was formed around 450 million years ago, he said, by a vertical displacement of more than 1,000 feet in the earth's surface rocks.
"It is not only an impressive place to be physically … but on the other hand Wolf Hollow was formed by faulting activity and it is a very significant fault," Leon said. "This isn't just an earthquake, this is probably thousands of years of earthquakes that created something like that."
It is also believed to be the site of the last great clash between the Mohawks and the Algonkian Nation. In 1669, the Mohawks ambushed their Algonkian invaders and are believed to have chased the invading tribe into the hollow below, Leon said.
Wolf Hollow Road, a roughly 1.1-mile roadway winding through the geological fault, was closed due to "stabilization" issues after Irene. Town officials estimated repair costs to be in the millions, but the town wouldn't be financing any repairs since it is a county road.
(Continued on Next Page)
Prev Next
Vote on this Story by clicking on the Icon