BETHLEHEM — The auditorium of Hamagrael Elementary was filled with the pinks and reds of Valentine's Day and the smell of candy as students set to work at this year's Community Service Afternoon.
For the second year in a row, the school has held an afterschool program where students can volunteer their time to give back to local causes. The day of service is part of the school's Kids Helping Kids program.
"This is an experience the kids can really learn from," said Principal Dave Ksanznak. "It's good for them to see how important it is to give back to their community."
Students spent the time after school participating in a variety of projects, not all of which helped children, but were to benefit a variety of local organizations and people in need.
The children were split into groups and were given tasks. Some were asked to make Valentine's Day cards for soldiers overseas, while other made bagged lunches of sandwiches and trail mix to be handed out at a local homeless shelter. Others created craft kits that will be handed out in the pediatrics ward to children at Albany Medical Center to keep their minds off being in the hospital.
Ksanznak said he couldn't believe the number of kids who signed up to participate, adding, "This is the most we've had so far."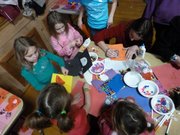 The Kids Helping Kids program began 10 years ago and started with the direction of parent PTA members. The hope was through the program, students could better understand what it meant to give back to their community and better appreciate their own situations in life.
The program is co-chaired by parents Becky Lane and Deb Selo.
According to Lane, the entire school participates in community service projects throughout the year. There's the back-to-school backpack stuffing project for kids in need of school supplies, the Adopt a Snowflake program during the holidays, creating gift bags for kids at St. Catherine's Children's Center and visiting the Beverwyck Senior Center.
(Continued on Next Page)
Prev Next
Vote on this Story by clicking on the Icon