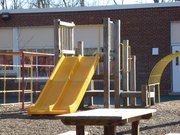 continued — Each year, the district's maintenance team performs a full inspection of all playgrounds and makes minor repairs when needed. Nolte said if a piece of equipment it broken it is either removed from the playground or roped off so children are not injured.
"But sometimes when we take (equipment) out of commission it stays out of commission because the district doesn't have the money to replace it," he said.
Nolte said his department will work with parents who would like to make repairs themselves or donate new equipment.
"I wish I could provide this stuff out of my own budget, but it's hard," he said.
Parents at the meeting also wanted to make sure the trees are preserved during installation and the unique character of the playground is not compromised.
"We obviously want to maintain that warm, fuzzy feeling children get when going to the playground," said Cohen.
The proposal is scheduled to be voted on at the PTA's Feb. 7 meeting, but could be put off until March to allow for more input from the community.
"I think we are in a unique position to provide something for all of the children of Elsmere and all of the children of the community," said Holstein.
The entire presentation on the playground can be viewed on the Elsmere Elementary website.
Vote on this Story by clicking on the Icon